Looking for amazing Android apps to download this year? Go through this list of must have android apps which will make your Android phone an amazing one.
Years back people were a bit skeptical about Android apps. But now over a million of apps are available in the google play store for users to download. I have deliberately not mentioned Whatsapp, Facebook, Instagram, Google Apps and Snapchat in this article because these apps must have been pre-installed on your device.
So, let's have a look at some of the must-have Android apps that can help keep you entertained in 2018.
Must have android apps
Headspace
This is an amazing meditation app which helps you make most out of your day. This app helps you attain a better relationship and relief you with stress. So, Android users get ready to have a more positive life.
Essential Timetable
Essential Timetable is one of the most downloaded timetable maker application on google play store because it's a simple and comprehensive lecture scheduling application for students. It displays scheduled lectures with their appropriate fixed times.
Additionally, in a bid to keep students organized, Essential Timetable is developed with an automatic notification system which gives a reminder every night ahead of the next day's lectures and another one every ten minutes to lecture start time. So, install the best timetable schedule maker apps and start to plan before the exams catch you.
Mint
Mint is an android money app which brings together your bank accounts, credit cards, bills and investment so you can keep track of your savings and expenses. Fantastic right! it's a much more needed app for people working.
Android Device Manager
This is an android app must have. It is very useful in a situation whereby your android device get stole or lost. This app will help you locate your Android device while it is missing, reset it security lock, and the best part of it is that you can delete all your files and data. so, stay connected and secure with your android device with the best android app.
CamScanner
Most android users are always in need of scanning documents like bills, invoice, photos and so on. This app uses your phone camera to digitize your documents. It also has a smart cropping and auto enhancing feature which allows you to share and upload your documents in PDF and JPEG format on social media.
LastPass
Back in the days when we had to write down all our passwords and keep them safe for the fear of hackers. But LastPass has come to our aid. LastPass is an android app that which help us lock and remember our passwords. You don't need to be scared of using this app because it uses end-to-end encryption for security.
Morecast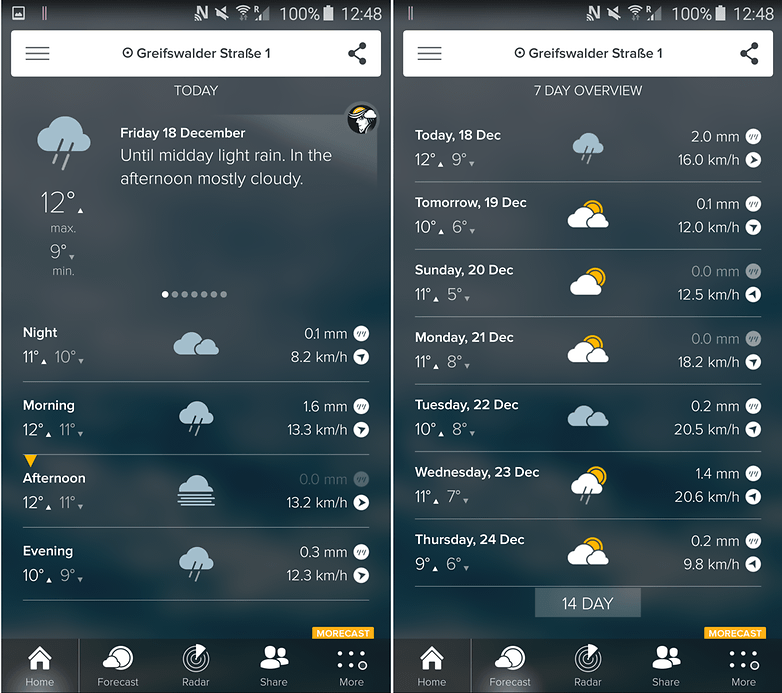 Morecast is an android app which provides you with an accurate weather report. This app has become one of my favorite weather apps because of its user-friendly interface and layout. it is the best navigator app you need to get.
Kaspersky Internet Security
Kaspersky Internet Security is the best security app you should have on your phone. It protects your phone from malware threat, and virus. It easily scans through your microSD card, internal storage space, and browser history. It is a must app.
These are some of the android apps needed to be installed on your device. But, there are still lots of helpful apps waiting to be installed on your device. So, hunt some of the best apps from play store.
Don't just read the article. like, comment and share 👍